"Meet the Team"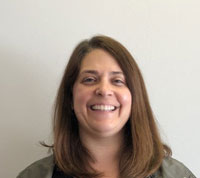 Carrie Cicciu-Singer
Carrie Cicciu-Singer, PT
Owner & Physical Therapist
Carrie is a licensed physical therapist that has been working in pediatrics since graduating in 1995 from Saint Louis University. She had the fortune to work for both a hospital-based outpatient clinic and a private outpatient clinic on the North Shore. Simultaneously, she was building her private practice (started in 1997). She has extensive handling experience with preemies to older children working with families to unlock each and every child's full potential. Carrie prides herself on thinking outside the box and working closely with each family to tailor an individualized and collaborative treatment approach with each child's team. Carrie is a credentialed evaluator and provider for Illinois Early Intervention, trained in Interactive Metronome, TMR-tots and teen 1 and 2 trained and has extensive continuing education in topics such as sensory processing, kinesio taping, myofascial release, and craniosacral therapy, NDT, visual motor skills, and autism spectrum disorder. She is married to her high-school sweetheart and has three terrific and active kids ranging in age from 13-20 who have taught her more than anything.
Education:
Bachelors of Science in Physical Therapy, Saint Louis University 1995, Magna Cum Laude
Contact Info: carrie@ccstherapy4kids.com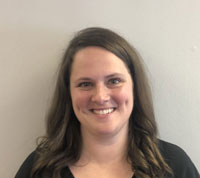 Sarah House
Sarah House, PT, DPT
Physical Therapist / Clinical Supervisor
Sarah, a native Kentuckian, is a licensed physical therapist who received her Doctorate in Physical Therapy from the University of Kentucky in 2009. She has had the opportunity to work in acute inpatient care, NICU, and private practice, which have provided her with a vast array of experience with children at all levels of development and medical complexity. She is certified in Infant Massage and Interactive Metronome. She loves having the opportunity of getting to know the unique personalities and skills of every child she has the privilege to work with and is so thankful for the opportunity to work with families and children to maximize their potential and skills.
Education:
Doctorate in Physical Therapy, University of Kentucky 2009
Contact info: sarah@ccstherapy4kids.com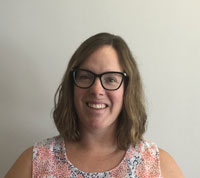 Christine Gaiden
Christine Gaiden, PT
Physical Therapist

Christine is a licensed physical therapist who has been working in pediatrics since graduating with her Masters in Physical Therapy from Saint Louis University in December of 1997. She has worked in hospital-based and private pediatric clinics since that time, as well as providing Early Intervention services and more recently, school-based P.T. services as well. Christine is a pediatric NDT-certified therapist, having completed the Bobath 8-week training in the Treatment of Children with Cerebral Palsy as well as the 3-week Baby Treatment course. She has a strong background in developmental biomechanics, baby treatment, kinesiotaping/wrapping, myofascial release, sensory integration and a variety of other treatment techniques. She firmly believes in working as a team with the child and their family to use the best combination of treatment approaches to maximize that child's functional gains. Christine loves to spend her time out of the clinic with her husband, 3 children, and 2 dogs!
Education:
Honors Bachelor of Science in Exercise Science with a minor in Psychology, magna cum laude, Saint Louis University, May 1996
Masters of Physical Therapy, Saint Louis University, December 1997
Contact Info: christine@ccstherapy4kids.com

Deb D'Amico
Deb D'Amico, OT
Occupational Therapist

Deb D'Amico Schmitz is a licensed occupational therapist from Milwaukee, Wisconsin. Occupational therapy is her second career. She was a lab technician at the University of Wisconsin-Milwaukee in the Department of Biological Sciences for 20 years before obtaining her Master of Occupational Therapy degree from Concordia University-Wisconsin in 2001. Deb feels that her biology background has been a great asset to her as an OT as she can better help families understand their children's medical issues. Deb is a credentialed provider and evaluator in Early Intervention and continues to work as a private provider. She really enjoys the challenges of working with older children and looks forward to continuing to learn from them. Deb's specialties include MNRI (Masgutova Neuro-sensory-motor Reflex Integration), Therapeutic Listening, Yoga for the Special Child, CranioSacral Therapy, DIR Floortime and Sensory Integration. Deb continues to reside in Milwaukee although she threatens to move to Illinois at any time.
Contact Info: deb@ccstherapy4kids.com

Mary Wirth
Mary T. Wirth, MS, OTR/L, C/NDT
Occupational Therapist

Mary T. Wirth has been a practicing occupational therapist for the past 40 plus years. Her background is extensive for working with infants, children, young adults, and adults, with a wide range of physical, developmental, sensory, and cognitive challenges. She has provided services in a range of environments: home-based, school-based, clinic-based, family conferences with intensive's, and hippotherapy.
She brings to her teaching a solid background for Neuro-Developmental Treatment (NDT) which has supported her in learning the Masgutova Neuro-Sensory-Motor Reflex Integration (MNRI) approach. Mary has spent the last ten years learning and studying the MNRI Method in depth, which has truly filled in the "Missing Links" in her toolbox for supporting her patients for greater physical progress, sensory processing, and self-regulation.
Mary actively provides consultation, mentoring, and in-servicing on a weekly basis to other therapists in her area. It is the "Joy" that comes from the work that drives her to support others in their learning journey to offer the best to their patients.
Education:
B.S. In Occupational Therapy from Mount Mary College, Milwaukee, WI May 1977
M.S. From University of Illinois Chicago, Chicago, IL December 1987

Contact Info: mary@ccstherapy4kids.com
Skyler Stohle
Skyler Stohle, MS, CCC-SLP
Speech & Language Therapist

Bio and picture coming soon!
Contact Info: skyler@ccstherapy4kids.com
Get Started
Please contact us for further information or to discuss your child's health with a dedicated therapist.